Back to all posts
Posted on
GSACRD Faith Theme Poster Contest Winner!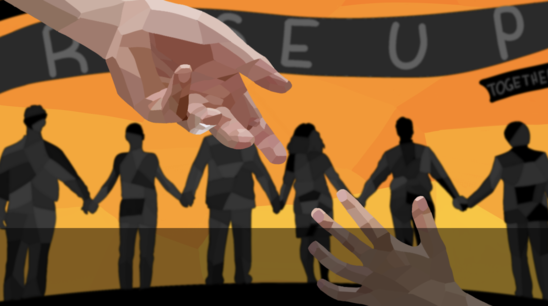 We want to CONGRATULATE Kyla on her winning submission for this year's Faith Theme Poster contest!
In an effort to help our students engage with our division's faith theme, students across the division were invited to participate in a "Poster Contest". Our three year faith theme is Arise! Get up, get going, and go with God.

This theme speaks to our need to listen for the voice of Jesus, and to respond. In the gospels, Jesus seeks out the lost, the sick, the hurting and even those who have died. Jesus responds to others with healing and comfort, drawing them into the love of God.  But we know that when Jesus heals, when he calls people to Arise, he is also speaking to us.  
 
Once we recognize Jesus in our lives, and his call to us, we respond.  We Get Up, and we Get Going, so we might be Christ for others.  To friends and loved ones, but also to enemies and strangers, we reach out, calling all to Arise to a life of love, hope and charity - to share the good news of our faith.
 
This message is what our winning poster submissions captured.
 
The posters were judged based on the following criteria
Poster represents the theme - "Arise! Get Up."
Originality and creativity
Neatness in execution of design
Aesthetically pleasing (e.g., colour, design, etc.)
The Winning submissions will be used to create faith banners for the Division (for posters, greeting cards, email banners, etc).
 
We wish to offer our thanks to all participants, but in a special way to the winners.
 
Congratulations Kyla, and thank you for "Arising" to the challenge of this poster contest.